Superyacht Management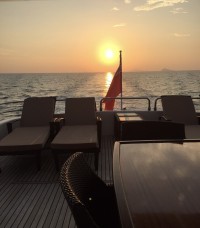 Management 
The whole point of owning a Yacht is Enjoyment, enjoying the experience of the sea, the ports, the time away from work or the office. Our job as managers is to take all the stress of ship ownership away from you so that you can just enjoy your experience onboard. We will handle the following aspects of yacht ownership for you 
Safety Management   
Finance & Accounting
Crewing
Operations
Maintenance & Repair
Shipyard 
Project Management 
Contact us
Contact: +66874178715. siam.serenity.th@gmail.com
Please send your email address and and message below or contact us by phone on +66 87 417 8715
Superyacht Management 
Safety Management
Compliance with Safety Management procedures and regulations is an essential part of the operation of a large yacht in today's world, we will ensure that your vessel complies with all the IMO SOLAS and ISM conventions
Finance & Accounting 
We will work with you and your Captain to ensure that all financial requirements are carried out efficiently and on time and produce accounts monthly and audits annually 
Crewing
With the advent of the licensing requirements of professional yacht crew it is now essential to choose crew members who are not only pleasant and efficient in their duty's but also comply with the flag state and STCW  regulations.
Operations
We will assist the Captain, Engineering and Catering departments in all their operational needs, whether  it be Port clearances, Customs, Immigration , Route Planning. Maintenance, Repair, Project Management or Stores and Bunkering, we will take these problems away from the crew to allow them to operate the ship efficiently and focus their attention on the guests.
Maintenance & Repair
When things break down in Port or on route it is important that the down time of the vessel is limited to the shortest possible time and the disruption to the owner or guests is zero or as close to zero as possible it is therefore essential to have an effective planed maintenance schedule in place and access to professional contractors when things do go wrong. Phuket, Singapore and Bangkok have the full range of Engineering, Electrical, and Electronic Engineers who are capable of solving your problems quickly.
Shipyards
Phuket has Shipyards capable of taking vessels of over 40 meters these yards have all the facilities you would expect in major yards in Europe. For vessels over 50 meters the yards in Singapore, Langkowi and Bangkok are extremely efficient commercial yards and we can arrange refits and general haul outs on request and project manage your stay.
Project Management 
We have many years of experience in the management of projects on yacht and commercial vessels whether it is a new build, engine change, major repairs to wooden vessels or redesigned interiors. We will budget the project, then plan it so that all aspects are completed on time and in sequence making sure the vessel is in the yard for the shortest time possible.